Brian Hare and Shinya Yamamoto Eds. (2017) Bonobos: Unique in mind, brain, and behaviour. Oxford: Oxford University Press.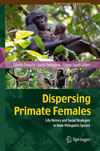 Takeshi Furuichi, Juichi Yamagiwa, Filippo Aureli (2015).
Dispersing Primate Females: Life History and Social Strategies in Male-Philopatric Species (Primatology Monographs). Springer

Nakamura M, Hosaka K, Itoh N, Zamma K (2015).
Mahale Chimpanzees: 50 Years of Research. Cambridge University Press, Cambridge.